Copado Plan App
Overview
Copado Plan entails every aspect of Product Management starting from the conceptualizing of a product to its release.
This document helps you with a brief understanding of the different phases of the Copado Plan. To understand each topic in detail, click on the link to navigate to that topic.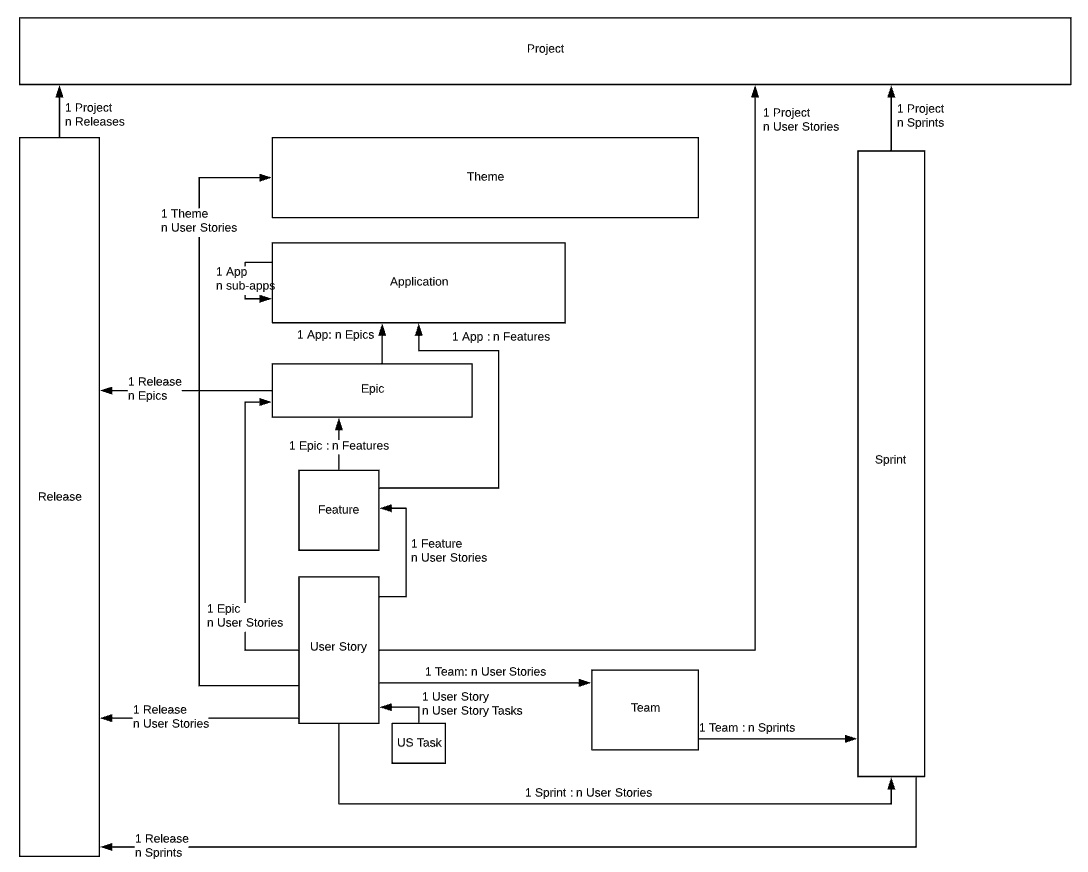 Phases of the Copado Plan
Copado Plan

Portfolio Management

A strategic theme in a company is something that can involve even several epics, applications, and even teams.

A product that creates value for a group of customers and to the organization. An application can be made up of many sub-applications that can also contain features. An application needs a name that people can remember and must clearly define the benefits for the customer. An application should adapt with time, trends, and changes to the market in order for it to stay relevant. An application may or may not have a revenue stream. 

Several collections of user stories.

In Agile & Scrum, features can be described as a large piece of work that delivers some type of business value. Features represent a single unit of value to users. Features are often made up of smaller units of functionality that are represented by user stories.

User Story and User Story Task

The smallest unit of work in an agile framework. It's an informal, general explanation of a software feature written from the perspective of the end user or customer. Hence, a user story can be called as an end goal and not a feature.

In Copado, a User Story is also used as a container object to develop, commit, promote, and deploy development work (metadata, apex code, etc). It also helps to link and track additional functionalities like use cases, test runs, and quality gates.

You can break a user story into multiple tasks that essentially chalk out the road map to the completion of the user story. It is recommended that each must be an action item that takes no more than eight hours. Tasks are usually defined by the people doing the work (developers, QA, etc). They contain highly detailed explanations of the job to be completed and are not meant for the end-user. 

Time Management

A proposed or planned undertaking of changes that are going to be made in Salesforce.

Groups user stories to promote them together. It also enables you to keep track of the version of changes that your Salesforce application experiences after every deployment.

A time-boxed period during which a team needs to complete a certain amount of work (user stories). The duration of the sprint is set in advance and usually ranges from one week to a month, a two-week period being the most common. Refer to Sprint Wall for Classic if you're using Salesforce Classic.

Dashboards to better monitor your agile activity with Copado.

A tool that allows your teams to work in an agile way. In the Portfolio Management category of our documentation, you will find more information about these methodologies and how to implement them within your development processes.

A graphical view that compares the current progress of the items in a sprint with the planned progress.

Teams

A group of users who work together on the same project. You can set up different teams within your company and add team members as required. In this topic, you will find the step-by-step process for creating teams and adding members to a team.

Kanban

An agile framework that requires a high level of communication and transparency within the team. The Kanban methodology is less structured than scrum and it is based on a JIT (Just-In-Time) approach and incremental improvements, where all the work is organized on a Kanban board.
Steps to Use the Copado Plan App
Go to the App Launcher > Copado Plan.

Click on the relevant tab to start working on that aspect of the Copado Plan.
---
---