Themes
Overview
The four primary principles of Agile Project Management are—Themes, Epics, Stories, and Tasks.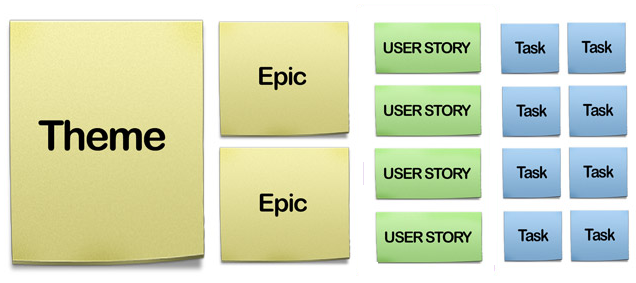 A theme is a group of related epics that have something in common. As an organizational tool, they also give you the ability to assign your Epics to different categories. 
By assigning a financial value to Themes, managers can ensure the highest value is being delivered and that the project/program is aligned with its objectives and the strategic direction of the organization.
Create a Theme
Navigate to the Themes tab. 
Click New.
Give your theme a name and provide a description.
Select a status for your theme. The available options are:

Draft
Planned
In Progress
Completed.

If it is an active sprint, select the Active checkbox.
Click Save.
Add User Stories to a Theme
To add user stories to a theme, select the theme when you create a new User Story record or create new user stories directly from the theme.
To create a user story from a Theme record, follow these steps:
Open the Theme record where you want to add the user stories.
In the User Stories related list click New.
Fill in the relevant details and click Save.
See Also
---
---