Copado Analytics Considerations
High Level Architecture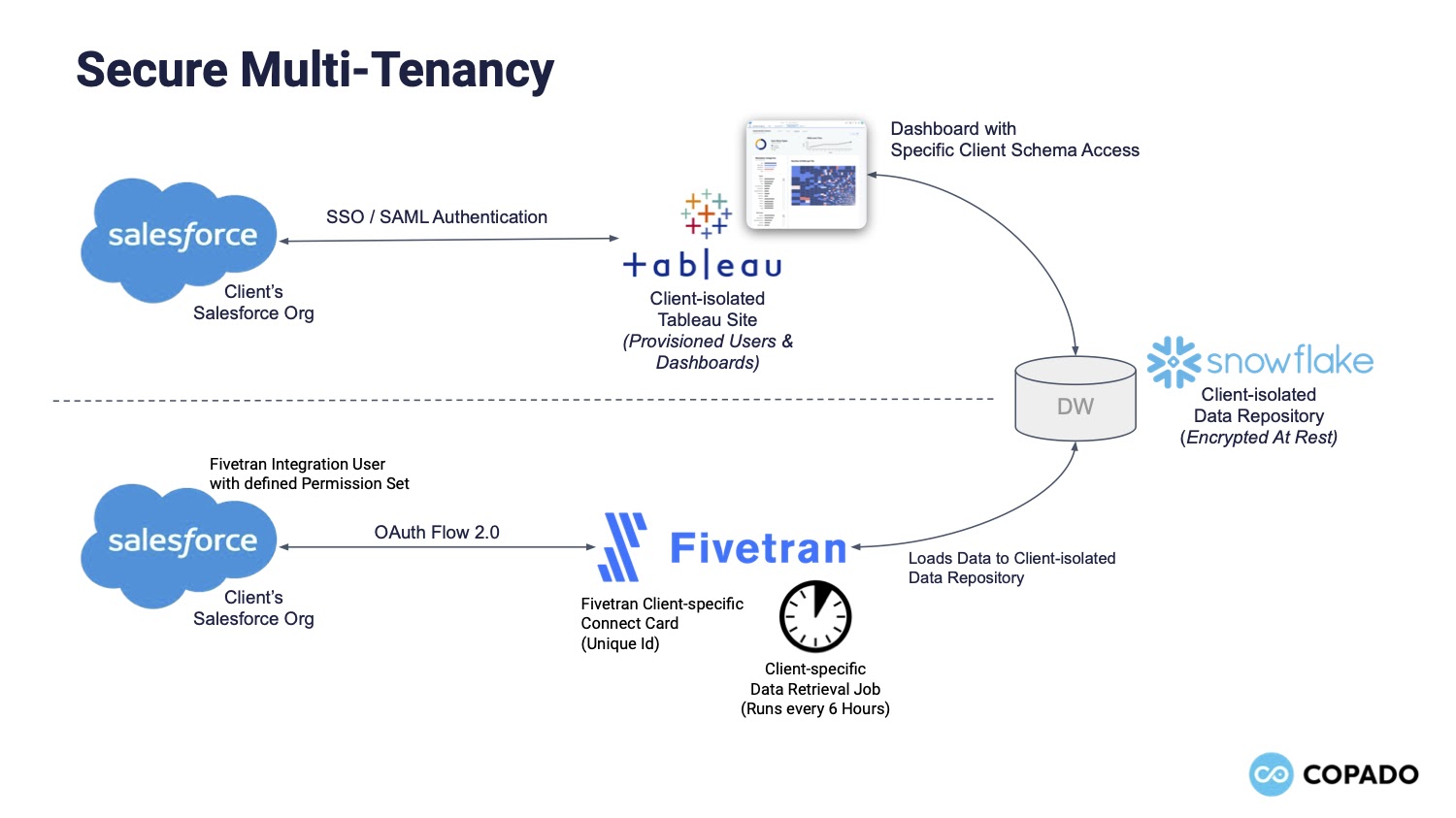 What Type of Data Will Be Utilized in the Copado Analytics Managed Package?
Copado will be utilizing data from the following objects for Copado Analytics:
| | |
| --- | --- |
| User Story | Environment |
| User Story History  | Epic |
| User Story Metadata | Project |
| Promoted User Story  | Release |
| Deployment | Sprint |
| Deployment History  | Sprint History |
| Pipeline  | Step |
| Promotions | Team |
| Organization | Theme |
Security Overview
Copado DevOps360 does not extract any PII, PHI, PCI or other personal sensitive information for Salesforce Delivery Management.
The Copado Analytics Data Admin permission set is included in the managed package and limits the user to Copado objects only.
Client's users access embedded Tableau dashboards automatically authenticated via SSO / SAML.
Client's Salesforce org is the primary IdP (Identity Provider) for SAML user authentication.
All connections are encrypted by default using industry-standard cryptographic protocols (TLS 1.2+).
Data is encrypted at rest and in transit. 
Installations Considerations
The installation of Copado's Analytics package will require a professional services engagement with Copado. For more information about the steps and requirements you need to follow to get Copado Analytics up and running in your organization, check out the article Installation Instructions for Copado Analytics.
Field History Tracking Data 
Analytics will utilize field history tracking data. Please enable field history tracking for the User Story and Sprint objects. Include the following fields:
User Story:
Sprint
Status
First Ready to Promote Time
First Time Promoted to Production
copado__Story_Points_Other__c
copado__Story_Points_SFDC__c
Note: If you do not have the fields copado__Story_Points_Other__c and copado__Story_Points_SFDC__c in the user story layout, it is recommended that you add them.
Sprint:
Start Date
End Date 
Project
Team
Story Points
Permission Sets
Analytics includes several permission sets depending on the level of access your users should have. Assign the right permission set to the relevant users:
Copado Analytics Data Admin
Copado Analytics User
**Customer is responsible for limiting the integration user permissions with the use of Salesforce profiles so that objects and fields outside of what is included in the Data Admin permission set are not exposed to the user. Any manipulation by the customer of the DevOps 360 Integration User through its profile or additive permission sets potentially introduces extraneous or sensitive information into DevOps360 data warehouse at the customer's own risk.
Layout Adjustments
User Story
The User Story record type and the Bug record type include different fields and should have a different page layout:
User Story Layout: Add the Lead Time (text), First Ready to Promote Time and First Time Promoted to Production fields to this layout.
Bug Layout: If you don't have a separate layout for the Bug record type already, create a new layout based on the User Story Layout and add the Elapsed Time to Resolve (text), Severity, Found in Promotion and Business Disruption Failure? fields to this layout. Do not forget to assign the profile to this new layout.
Promotion
Edit the Promotion Layout and add the Caused Business Disruption? and Destination is a Production Org? fields.
Environment
Edit the Environment Layout and add the field Production Org?. 
Additional Adjustments
Navigate to the Environment record that corresponds to your production organization and check the Production Org? field.
Third-Party Services 
 Snowflake: Data Warehouse
 Fivetran: ELT 
---
---