Introduction to DevOps 360
Overview
DevOps 360 is the first Salesforce delivery management application, enabling you to measure the performance of your Salesforce implementation. This industry-leading product provides an executive-level overview of performance across all your Salesforce delivery teams, as well as detailed insights into every part of the development process.
DevOps 360 consists of two product features that come in separate packages, DevOps Analytics and Value Stream Maps. Let's take a look at the benefits these two features can provide to your team.
Benefits of Value Stream Maps
Insightful metrics on your teams and business processes.
Value Stream Maps enables you to visualize the flow to end users.
Ability to identify bottlenecks in a process.
Benefits of DevOps Analytics
Advanced analytics all built into the CI/CD pipeline to proactively identify performance inhibitors.
Increased visibility into your DevOps process with additional metrics. 
Built on the Salesforce platform, so you can add these new metrics to your own standard reports and dashboards in Salesforce.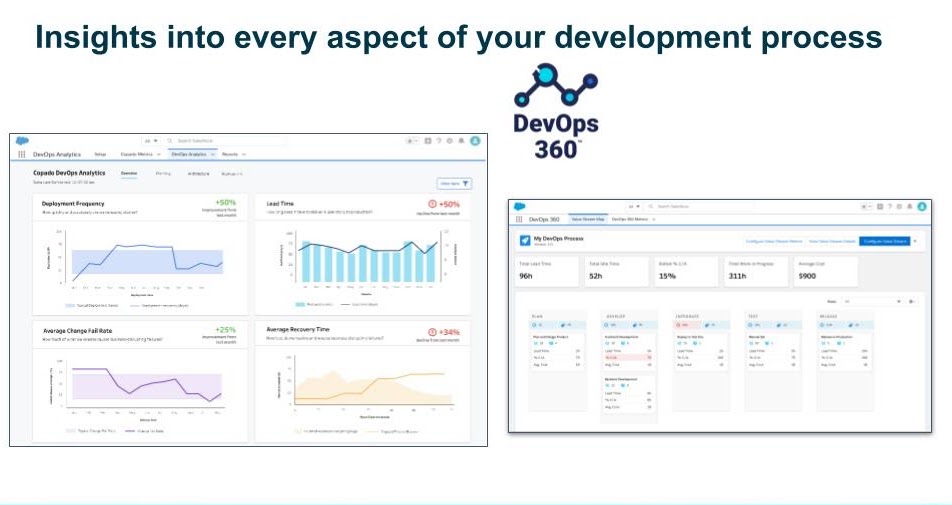 For more specifications about these two features, check out the articles Value Stream Maps and DevOps Analytics.
If you have not installed yet these packages, follow the relevant installation instructions:
---
---