Copado Compliance Hub
What Is Copado Compliance Hub?
Copado Compliance Hub is the first compliance application for Salesforce orgs that allows you to monitor and enforce compliance rules in your business for all metadata changes made in your environments and Git branches.
Having a compliance process in your org is very important. If your company has any particular policies, you can use Copado Compliance Hub to ensure all the changes abide by these rules. Let's say, for instance, that you want to remove the visibility to certain objects from a specific profile. You can create a rule to ensure only the right profiles can see these objects.
Copado Compliance Hub can help you identify non-compliant changes before they get deployed to other environments and even to production, thus avoiding the hassle of manually having to revert these changes once they have been applied.
Compliance scans are quite flexible and can be run in different places such as user stories, Git snapshots, credentials, and deployments. These scans are based on the compliance rule group assigned to the environment. Additionally, you can use a Copado webhook to run a compliance scan from a scheduled job, a deployment step, a user story deployment task, or a process builder.
If you are using Copado Continuous Delivery, you can also configure compliance scans as a quality gate before deploying your changes. For more information about how to set up this quality gate, check out the article Pipeline Configuration.
Key elements in a compliance scan:
Compliance rule: A compliance rule is a compilation of criteria that will be applied by Copado during the scan.
Compliance rule criteria: Compliance rule criteria are the collection of statements and the logic that is considered by Copado's scanner when the scan is executed.
Compliance rule group: A compilation of compliance rules that can be assigned to an environment for them to be implemented: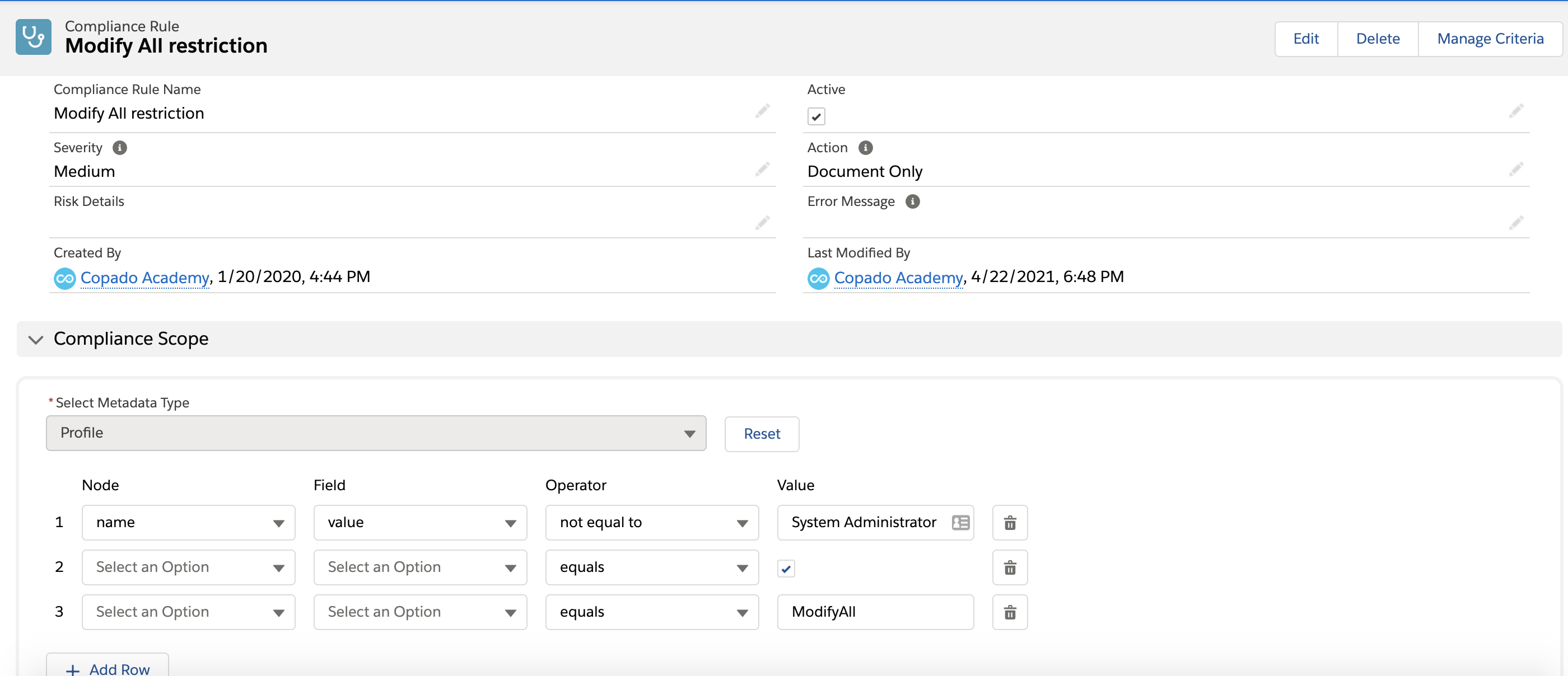 Requirements
In order to start working with Copado Compliance Hub, you need the following:
Copado Compliance Hub's feature enabled.
Copado Compliance Hub licenses assigned to your user.
To learn more about Copado Compliance Hub, check out the articles Running a Compliance Scan and How to Create a Compliance Rule.
---
---