How to Manage Users in Your Instance
Adding Users
Adding users to your instance might be an activity that you need to do quite often. Follow these steps to add users to your Copado Version Control instance.
Navigate to your avatar/username in the top right corner of the page and click on Site Administration.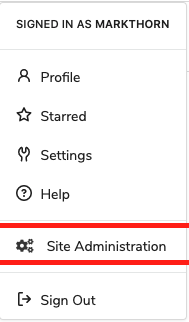 To add users to your instance you need to be a Site Administrator.
Click on User Accounts.

On the top right, click on Create User Account.

Fill in the required information.

Authentication Source: Local
Username: Unique identifier of the user used in the application and during login. Username should contain only alphanumeric, dash ('-'), underscore ('_') and dot ('.') characters.
Email Address: The email address of the user that is used to log into the application.
Password: Enter a password for the user.
Require user to change password: If you select this option, the user can log in using the password set by the admin but will have to introduce a new one afterwards.
Send User Registration Notification: If checked, the user will receive an email notification with a link to the login page of their instance (a), or to set their password (b):

---
---