Deploying a Data Set
In the Data Sets article, you learnt about what a data set is and how you can create a data set. Once you are done building your data set, there are different options you can use to deploy your data. Let's explore them in more detail.
Deploying a Data Set from a Data Set Record 
If you want to deploy your data straightaway, you can use the Deploy Data Set button on the Data Set record:

Navigate to an existing Data Set record and click on Deploy Data Set.
A pop-up window will appear where you need to provide the destination org for your deployment (the source org of the deployment will be the org you selected when you generated the data set).
Copado will then create a Deployment record. Click on the link to navigate to the deployment.
As you can see, Copado has created a multi-step deployment that contains a Data Template step with a data set source: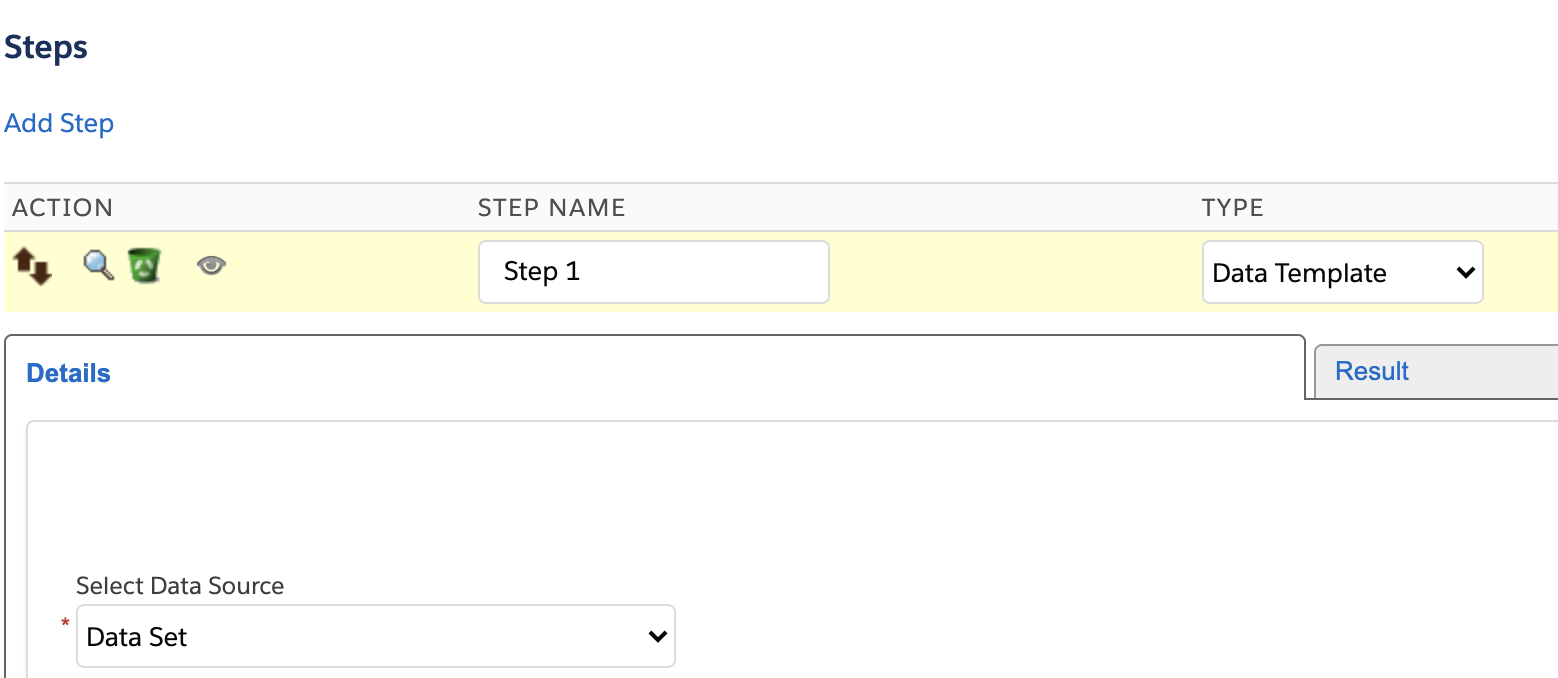 Review the step and validate it (you can learn more about the deployment validation option below). Once you are done, click on Save.
Lastly, click on Deploy.
Deploying a Data Set from a Deployment Record
If you want to deploy your data set and perform additional actions as part of this deployment (for instance doing a data backup), you can create an Advanced (multi-step) deployment and add a Data Template deployment step.
Navigate to the Deployments tab and click on New.
Select the Advanced (multi-step) record type and click on Next.
Give your deployment a name and select a source org.
Next, provide a destination org.
Then, add a Data Template step and select a data set as your data source.

Select your data set and click on Save to save the step or Validate to validate the deployment.
Add any other steps, if desired, and click on Deploy.
Validating Your Deployment
When doing a data deployment, you may want to ensure your data can be deployed before actually executing the deployment to avoid deployment errors. For instance, if there are any required fields missing in your data set or if the deploying user doesn't have access to the relevant objects and fields in the destination org, your deployment won't succeed.
To confirm you have everything you need and your data is ready to be deployed click on Validate in the Data Template step:
Once the validation is completed, Copado will display a list of warnings, if any, so that you can fix any potential issues before deploying.
---
---