Copado Continuous Delivery Overview
Overview
Copado Continuous Delivery is a feature that allows you to deliver changes to production in a quick, safe and sustainable way.
With Copado Continuous Delivery you can create connection behaviors and add them to your pipeline in order to schedule or automate promotions and back promotions, or implement quality gates and automations such as validations, compliance scans or Selenium tests.
Copado Continuous Delivery makes use of Salesforce's Change Data Capture (CDC) capability to enable automated and scheduled deployments. If you specify a scheduled or automated deployment behavior, please make sure you have enabled Change Data Capture in the Setup UI for two particular Copado objects: User Story and Promotion.
With Continuous Delivery, the appearance of the Pipeline and Pipeline Configuration pages changes, but the existing behaviors do not change automatically. If you want to enable automated promotions, back-promotions, or quality gates, you create connection behaviors to define the behaviors you want. This means you can adopt this feature gradually as you're ready.
If you are working with user stories, once you have completed your work you can use the Submit button on the User Story record to mark your user story as ready to promote to the next environment:

After submitting, you will see a confirmation page showing a summary of the upstream environments, how the user story will be deployed to each environment and what tests will run beforehand. If everything looks good, click on Submit Changes to proceed with the deployment: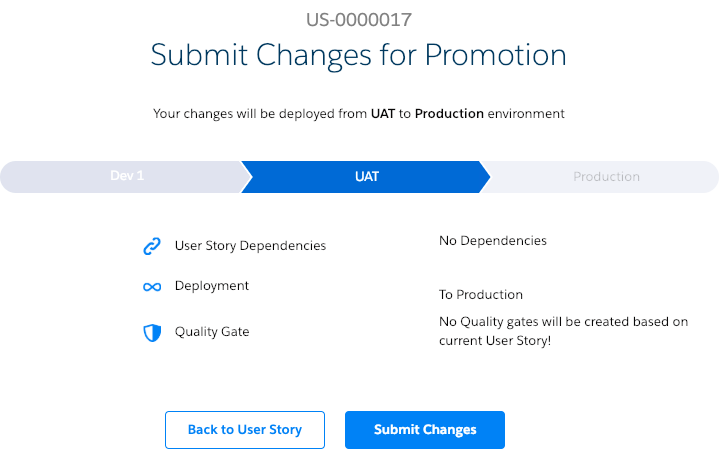 The user story will then be visible on the Pipeline page and can be automatically deployed and tested if you have configured your connection behaviors in that way:

User Permissions Required to Work with Continuous Delivery
There are several things regarding user permissions you should bear in mind when working with Copado Continuous Delivery:
Copado runs deployments using the credentials for each environment. This security feature allows teams to define different credentials for different users in each environment.
If you have automated deployments using Continuous Delivery, when a developer submits a user story this can trigger a series of deployments to different destination environments. Those deployments will each run using the credentials of that user.
It is possible to use Continuous Delivery to allow developers to deploy their work to different environments, even if they don't have their own credentials for that particular environment. To do this, simply set a default credential for these environments. The default credential will enable Continuous Delivery to deploy user stories to that environment, even if the developer doesn't have their own access.
Only someone with the Copado Admin license can deploy to production orgs or create validation deployments against production orgs. If you want to enable Continuous Delivery to automatically deploy certain kinds of user stories to production orgs, someone with a Copado Admin license will need to assign a default credential to the production org.
Scheduled deployments or back-promotions in Continuous Delivery behave differently. These jobs are performed by the user that sets up the scheduled deployment or back-promotion.
---
---