How to Migrate an Existing Repository to Copado Version Control
You can migrate an existing repository to Copado Version Control either from the UI or CLI.
UI
In the upper-right corner of any page, click on the + drop-down menu and select New Migration.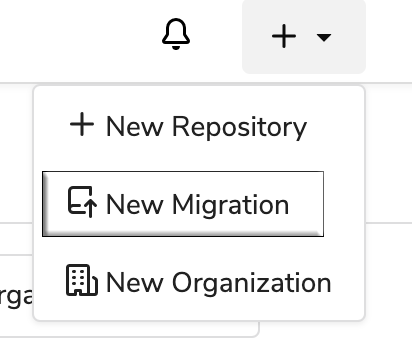 Select the provider from which you will migrate the data. For other providers, select Git.

If you want to migrate more specific items, like pull requests or labels, you'll need to enter the access token generated by Github or Gitlab. Otherwise, leave it empty.
Complete the required fields. 

If you want to set an organization as the owner of the repository, open the Owner drop-down menu and select the corresponding organization.
If your repository is a mirror, you won't be able to commit in Copado Version Control, since your main repository will be the external one.
When ready, click on Migrate Repository.
The migration process can take several minutes depending on the repository size and history. We recommend you stand by patiently. If this process takes more than 2 hours, please contact Copado Support. At this moment, the migration process does not indicate the % completed or remaining.
If you wish to cancel the migration process, follow these steps:
On the migration screen, get the repository path from the URL.
Example: https://acme.cvc.copado.com/SalesOps/CustomerService
Add /settings at the end.
Example: https://acme.cvc.copado.com/SalesOps/CustomerService/settings
Delete the repository.
If you have an on-premise version control system (sitting behind a firewall), there are additional steps you need to follow. In such cases, we recommend migrating through the CLI or contacting Copado Support for more details. 
CLI
If you want to migrate your repository using the CLI, please check the How to Move to a Different Git Repository Provider article. 
---
---