Value Stream Maps
Introduction
Value stream maps enable you to visualize the flow of value to end users. It is one of the core features included in DevOps 360. With Value stream maps you can get clear and actionable insights into your development process and identify any bottlenecks that may be preventing your team from delivering operational features in a reasonable time frame.
When talking about Value stream maps, there are some concepts you should familiarize yourself with: stages, process blocks and metrics.
A stage represents a phase within the overall process you want to track. For instance, if you are tracking your development lifecycle, a stage could be 'plan' or ''develop'. You can define as many stages as you need. Each stage includes process blocks, which are specific processes within your stage. Considering the example above, a process block within the 'plan' stage could be 'Design Review' or 'Sprint Planning'. As with stages, you can add as many process blocks as needed. Multiple process blocks in a stage are meant to indicate "parallel" processes. Finally, each process block contains metrics, which are quantifiable measures that provide key insights such as lead time or % complete and accurate.
Move on to the next sections to learn how to configure a value stream map and navigate the Value Stream Maps page.
Configuring Your Value Stream Map
Before you build a value stream map, there are three things you need to configure beforehand, if you haven't done so yet:
Enable My Domain in Salesforce's Setup.
Enable history tracking on at least one standard object and the object that you will be tracking, e.g. Account, User Story.
Enable field history tracking for any field you would like to use as the primary field in your value Stream Map. This is required in order for Copado's event collector to start tracking changes in this field and delivering metrics based on those changes. 
For more information about all the adjustments you need to make prior to configuring your Value stream map, please check out the article Installation Instructions for Value Stream Mapping.
When building a value stream map, you first need to identify the stages that you would like to create. Once you have identified your stages, add process blocks associated with those stages.
To create a value stream map, follow these steps:
Navigate to the Value Stream Maps tab and click on New.
Give your value stream map a name.
Select the object you want to associate your value stream map with.
Select the primary field for your value stream map. Most objects within Salesforce have a field which measures the lifecycle of that object. For example, opportunities natively provide the Stage field.
Select any record types that apply. You can select all record types or only one depending on your use case. You may want to focus on a particular record type, for instance if you want to track the progress or time your team spends on a particular type of user stories, bugs. In this case, you can select just this specific record type from the available options and move it to the Selected column. 
Select a start date for your value stream map. If you have field history tracking enabled, the value stream map's event collector will utilize the field history tracking data to generate metrics based on the start date selected. If you do not select a start date, this field will be populated with the date that the value stream map is activated.
Create as many stages as you need and drag and drop the boxes to rearrange them.
Once you are done, click on Save: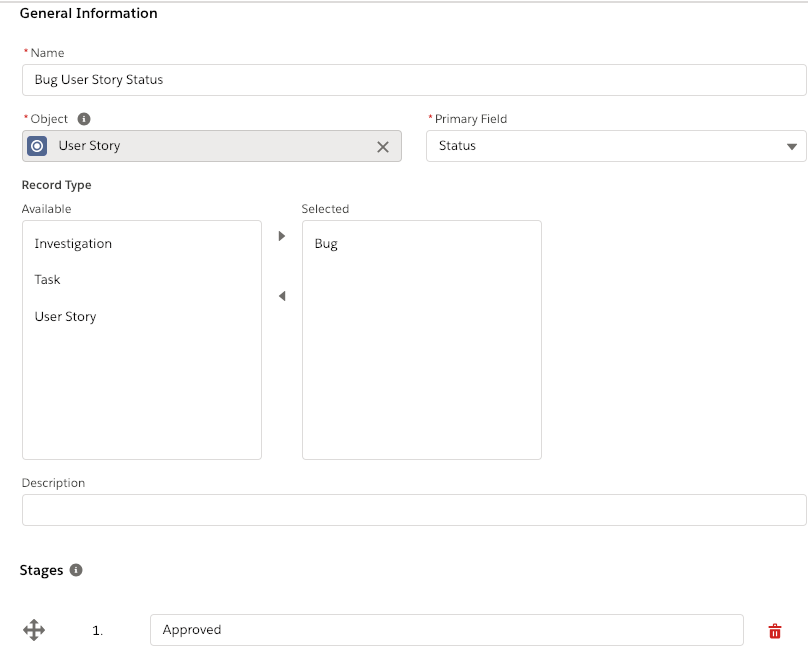 Now that you have the object and primary field on which you want to base your value stream map, the date and the stages you want to track, you can go ahead and start adding process blocks to your stages. 
To create a new process block, follow these steps:
Click on the + icon at the bottom of the stage.
Give your process block a name.
If you selected all record types in the initial configuration of the value stream map, you now have the option to drill down and select a specific record type for your process block. If you don't select anything, all record types will be included.
Provide a description.
Click on Save: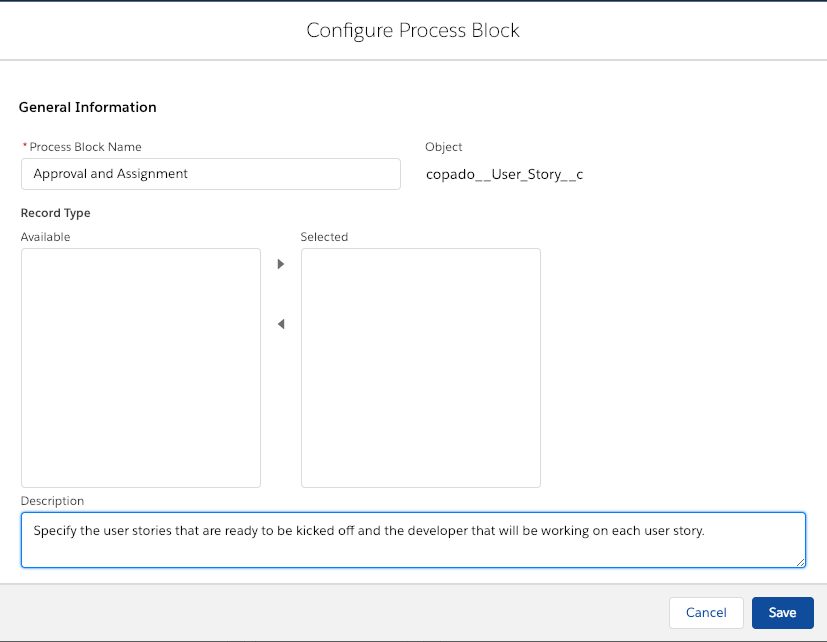 By default, all stages include a Waiting Time section at the top where you can define what is considered a waiting criteria. Below the waiting criteria, you will find active criteria. 
Once you have configured all the process blocks you need, select the values from the menu on the right-hand side of the screen and map them to the blocks. These are the values that will be analyzed and used to calculate the different metrics displayed in each process block. You can map more than one value to a process block.
Once you complete the mapping and are ready to save the value stream map, you have two options:
Save Configuration: Save your Value Stream Map but do not activate it yet.
Save & Activate: Use this option if you want to activate your value stream map straightaway.
Navigating to the Value Stream Maps Page
To review the value stream map you have just created, navigate to the Value Stream Map record and click on Open Value Stream Map:

You will be taken to the value stream map's main page: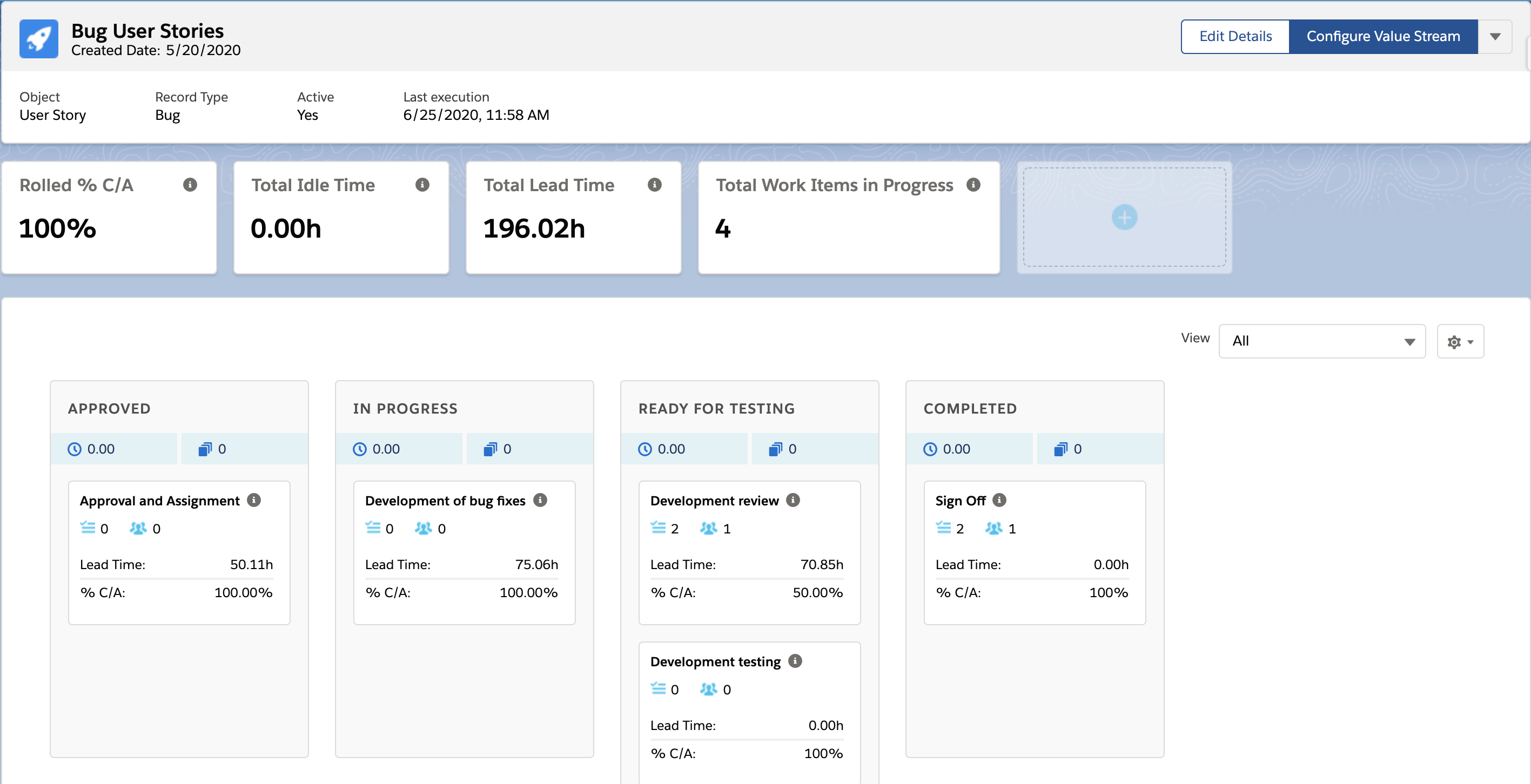 Metrics and Icons
On this page you can find four key metrics at the top:
Rolled % C/A: This metric displays the percentage of work items that pass through all the stages without having to be sent back to prior stages due to quality issues. It is a product of the weighted % C/A.
Total Idle Time: Average time that a particular work item will spend waiting before it is completed.
Total Lead Time: The sum of lead time across all stages.
Total Work in Progress: The number of work items that are currently in progress.
Below the top-level metrics, you will find all of the process blocks you have created which include several metrics. Let's take a look at the icons and metrics included in a process block: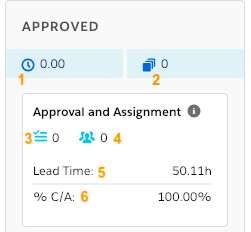 This icon shows historical idle time, which represents the average time a work item spends in the waiting section at a specific stage.
This icon displays the current number of work items that are in a waiting status at a particular stage.
This icon shows the current number of work items that are in an active criteria in a process block.
This icon shows the current number of unique owners across all work items in the process block.
Lead time: The average time it takes for a work item to be completed in a process block + waiting time (historical).
% C/A (percentage complete and accurate): Percentage of work that was completed without a re-entry to the process block.
Copado uses historic work items to estimate current work in progress. Some metrics such as the lead time and the % C/A within process blocks are historical averages.
Actions
On this page you can perform the following actions:
Create custom metrics at the top by clicking on the + sign:

Select the field you want to measure and the calculation type. The available calculation options are SUM and AVG: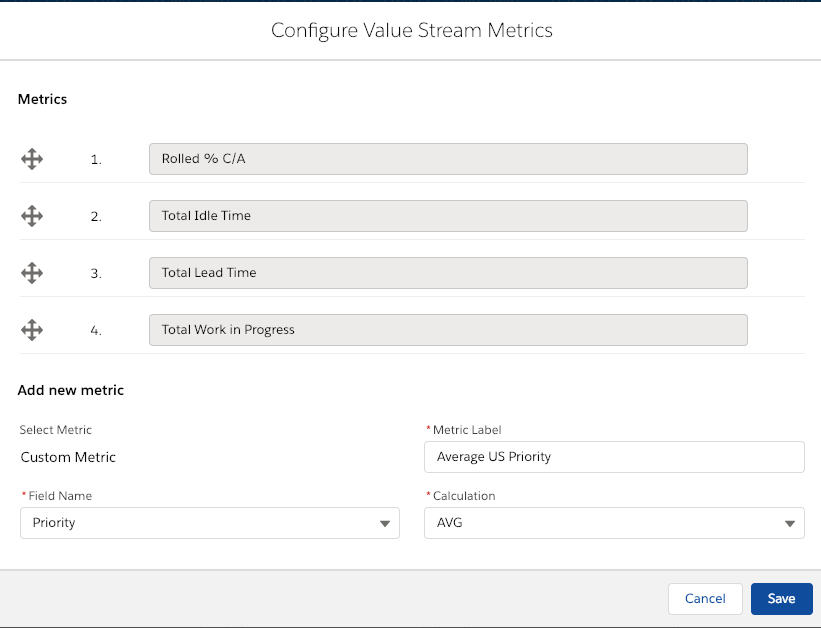 Create a filter to see data for a specific date range or filter by other fields included in the object selected for the value stream map. You can choose the visibility of the filter and make it available to you only or to all users: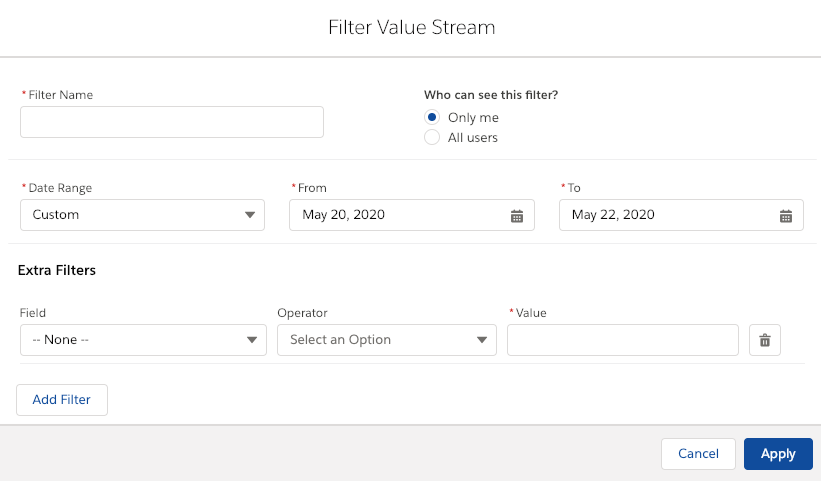 Click on Edit Details at the top right corner to edit your value stream map.
Click on Configure Value Stream Map at the top right corner to edit the process blocks and the mapping. From there, you can cancel the changes, save the configuration or save and close to go back to the main page.
Select Deactivate from the drop-down menu at the top right corner to deactivate an active value stream map.
Select View Value Stream Details from the drop-down menu to navigate to the Value Stream Maps record.
Select Recalculate from the drop-down menu at the top right corner to manually recalculate your value stream map and see the latest metrics related to your value stream maps.
---
---