Deployment Step: Users
The Users deployment step lets you deploy users from one org to another.
To create a Users deployment follow these steps:
Go to the Deployments tab and create a new Advanced (multi-step) deployment.
Give your deployment a name and select a source and a destination organization.
Add a new step and select Users as step type: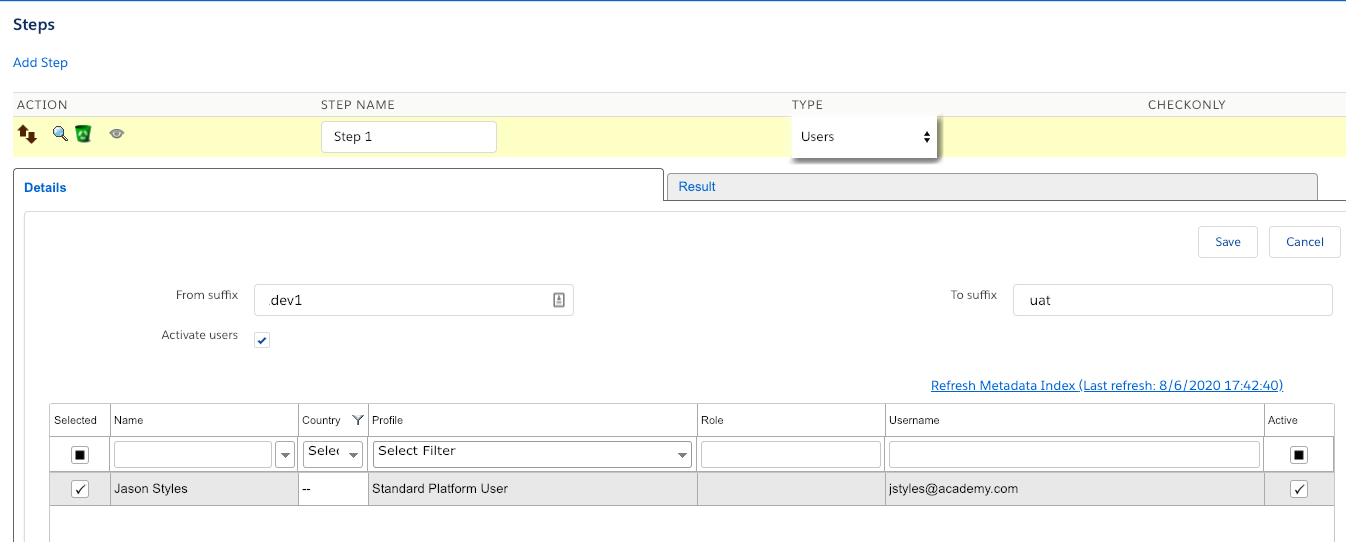 Select a user from the grid and click on Save.
Considerations
Both standard and custom user fields are deployed.
The user territory assignments and permission set assignments of the users are mapped automatically in the destination organization as part of the deployment:

For this to work, the territories and permission sets must exist in the destination organization. If these are new, you should deploy them in a MetaData step prior to deploying the users.

For users with a manager or a delegated approver assignment, these are mapped as part of the deployment.
Only internal users (UserType='Standard') are retrieved.
Territories and Permission Sets
If you want to transfer territories and permission sets as part of a user deployment, you need to deploy these first in a previous step in order for the User deployment step to succeed. Copado will deploy users automatically and then associate the corresponding territories and permission sets with the user. 
Users need to be deployed as active in order for permission sets to be assigned, so make sure the Active users checkbox is selected: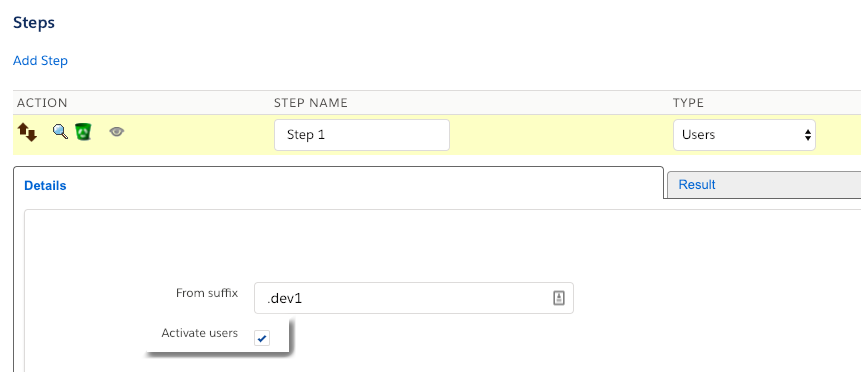 Manager and Delegated Approver
When transferring users with an associated manager or delegated approver, Copado deploys the users and associates the manager or delegated approver with the deployed users automatically. 
Please note that the related user must also be queried and be present in the deployment. This can all be done with one deployment step and does not require a multi-step deployment, as with territories and permission sets, in order for permission sets to be assigned.
Adding a Suffix
During the deployment, if you have specified a suffix, Copado will append it to the email, the username and the community nickname. If no suffix is specified, nothing will be appended. If you specify a  'From suffix' but not a 'To suffix', Copado will remove the 'From Suffix' in the destination organization'.
E.g. If you are deploying a user with the email jsmith@example.com.uat from UAT to production, and you set the 'From suffix' to uat and leave the 'To suffix' blank, this is how the user's details would look like in the destination organization:
| | |
| --- | --- |
| Example | Sandbox named, 'UAT' -> Production |
| Email | jsmith@example.com.uat -> jsmith@example.com |
| Username | jsmith@example.com.uat -> jsmith@example.com |
| Community Nickname | JohnSmithuat -> JohnSmith |
In order to ensure the suffix is correctly appended or replaced in the destination organization, add the suffix without the dot:

.uat x 

uat√
---
---