Result Object
If you are working with Salesforce flows to trigger jobs from third-party tools, you will often find yourself building different objects in Salesforce to store the results of these jobs. Not only is this a time-consuming process, but also you have to navigate to different tabs or endlessly scroll down through the related lists within an object record to be able to find the results you are looking for.
With the aim of making this easier for you and providing a unified place to look for job results when working with automations (e.g. using Salesforce Flow steps), Copado has designed a new Result object.
Whenever you run an automation in Copado, you can store the results in this new object. To do this, you can use a Create Records element in your flow to generate a Result record once the job is executed and then add an Update Records element to get the Result record updated once the job is completed.
Let's take a look at the different fields and information you can find in a Result record.
The Information section includes relevant details about the job, such as the job Id, a link to open the job and get more details and a Status field where you can see whether the job has succeeded or failed, or if it is still in progress or has not started yet.
In the Description section you can find a more detailed explanation of the job that has been executed as well as the error message and the error code (if the job has failed):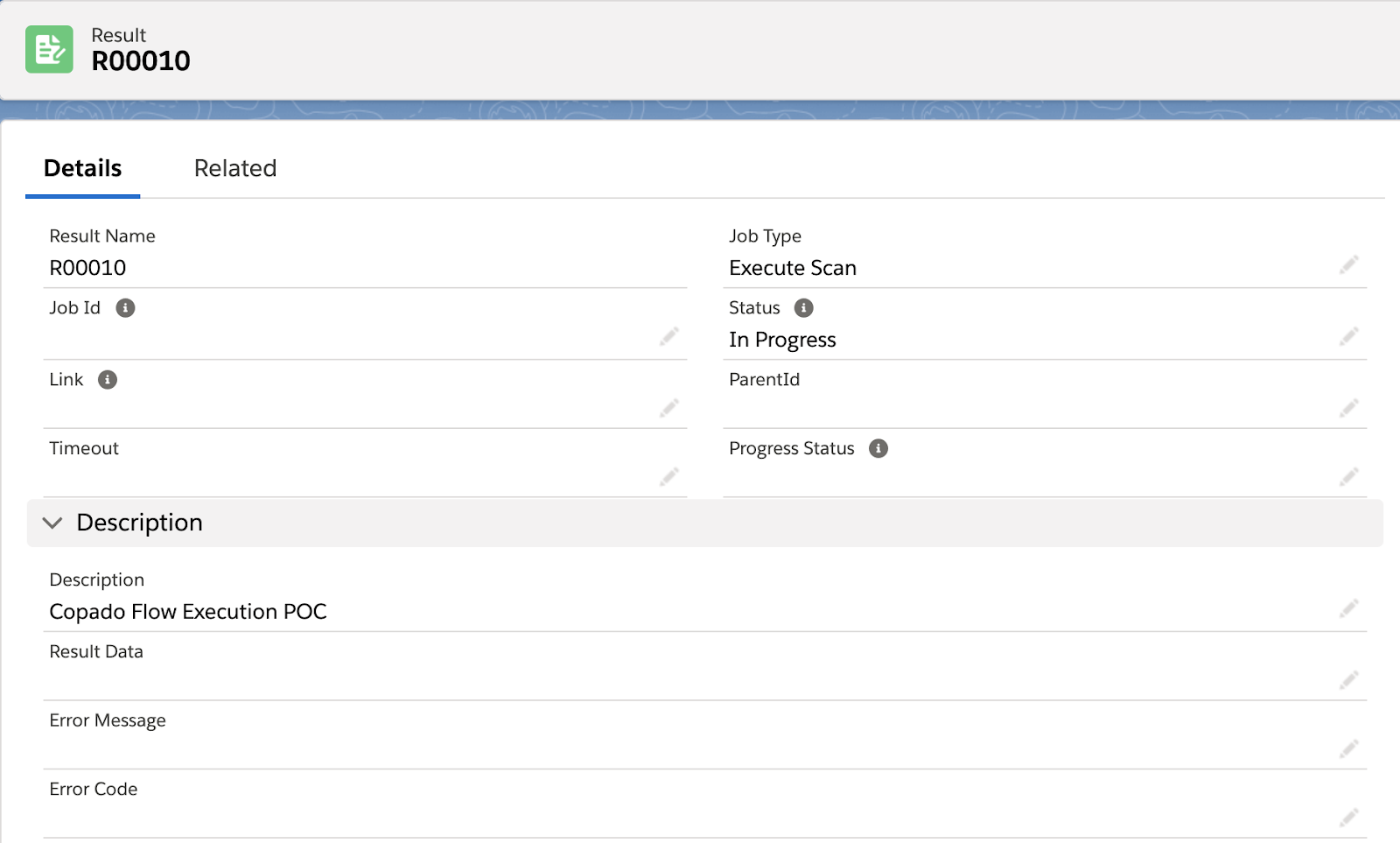 In the Parent Records section, you can find four lookup fields: User Story, Deployment, Function and Promotion. If the result has been created after triggering a flow from a user story, the user story reference number will be populated on the User Story field. If the result has been generated from a deployment step, the deployment job name will be displayed on the Deployment field. If the result comes from a function or a promotion, the name of the function or promotion will be populated. This allows you to navigate to the records that triggered the result quickly:

Finally, the Metrics section shows you the date and time the job started, the date and time it ended, if it is completed, and the duration in seconds, which will help you track the job's performance:

---
---